Welcome to Civil Defence College

The Civil Defence College is the National Training Centre for Civil Defence. The College works with a wide range of national and international bodies to develop and deliver training, skills and expertise in a variety of fields. The College teaching syllabus is designed around a number of themes which support Local Authorities and Communities during declared and non-declared emergencies. Our training includes Missing Persons Search, Flood Response, Casualty and Welfare support among others.
We work with a wide range of national and international partners annually in devising our college programme for the coming year. Our training partners include the Primary Response Agencies; An Garda Síochána, Fire & Rescue Service and the National Ambulance Service. Accreditation of college programmes is an important aspect in what we do; ensuring our delivery and teaching methodology is in line with best practice nationally. Our alignment to and quality assurance agreements with such bodies as Quality & Qualifications Ireland (QQI) (formerly FETAC) and the Pre-Hospital Emergency Care Council (PHECC) ensures consistency and external oversight of our practices. Some programmes are drawn from internationally accredited agencies; Swiftwater and Flood Responder, Instructor and Management training is certified by Rescue3 Europe, an internationally recognised water rescue agency.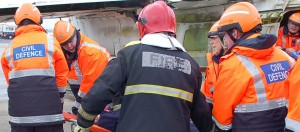 Our Training is modelled on two connected streams; one based at the College (central training) and the other within each Local Authority (local training). The College is responsible for devising policy and training interventions which develop volunteer members of Civil Defence into Instructors; they in turn provide local training to volunteers within the respective units.
Our students are drawn from a cross section of society; they bring wide and varied life experiences with them. Many of our students are in fulltime employment; others balancing domestic life with other commitments. Our students are highly motivated to learn and use their life experience and background to support their own and each other's learning. Becoming an Instructor in Civil Defence is only the start of the journey; Continuous Professional Competence (CPC) is the cornerstone of our ongoing support; ensuring instructors are kept informed of changes in their respective fields. CPC includes workshops; seminars and ongoing skills & knowledge assessments.
Civil Defence College Calendar 2020
---
Publications & Policies

College Policies:
ICT Student Code