News
May 12, 2017
More than 2,000 people braved the cold on Saturday morning, 6th May to take part in what was Letterkenny's largest Darkness into Light 5K to raise funds for the Suicide Charity, Pieta House. A further 1,500 Men, Women, Children and even a few dogs walked the 5k in Donegal Town with an additional 2,600 people… Read More
---
May 11, 2017
Breda Graham, a volunteer with Tipperary Civil Defence wrote a news article on Civil Defence: the hidden heroes behind Irish searches, which was published in the Irish Examiner today. This gives an insight into the involvement and training of Civil Defence to deal with missing person searches. Below is a link to the article on… Read More
---
May 11, 2017
A fire broke out at the Verdemont Apartments of the Snugborough Road in Blanchardstown in West Dublin on Wednesday evening. Dublin Civil Defence setup a rest centre which housed 16 evacuees last night. Fingal County Council is currently sourcing alternative accommodation for the residents. It is expected the rest centre will be closed down later… Read More
---
May 9, 2017
Donegal Civil Defence are assisting the Fire Service in dealing with a number of gorse fires in the county. Civil Defence Fire Crews and the Unit are both in attendance.
---
April 27, 2017
On Saturday the 22nd April Limerick Civil Defence hosted a Regional Exercise in Curragh Chase Forset Park. The competition consisted of competitive sites including Casualty/Medical, Search, Radio Communications, Footdrill and Multi Skills, and a Team Building site which tested the volunteers' ability to communicate and work as a team using a range of various skills…. Read More
---
April 27, 2017
On Friday April 7th Roscommon Civil Defence held their annual Awards Night in Hannon's Hotel, Roscommon Town. There were certificates awarded to the volunteers on the night for various disciplines, a number of volunteers received their 10 Year Service Medals, Derek Nolan received the 20 Year Service Medal. Special guests that were in attendance on… Read More
---
April 26, 2017
Congratulations to all 71 graduates of the Emergency Medical Technician, Voluntary Sector Training Skills, People Handling Instructor & Manual Handling Instructor Programmes today in Roscrea. These are national accredited awards, reflecting the skills and competence of participants from Civil Defence, National Ambulance Service & Defence Forces. A special congratulations to Thomas Durney & Catherine Flynn… Read More
---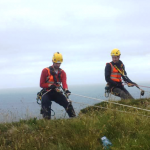 April 13, 2017
Congratulations to Tiarnan Doherty, Donegal Civil Defence on winning the March Photo of the Month Competition. A €50 One4All voucher is on its way to you. #cdphotoofthemonth The competition is open again for April – if you're not in you can't win. There will be a €50 One for All voucher awarded to the winner each month. Entries for… Read More
---
April 11, 2017
Flood evacuation & Rest Centre exercise in Cabra, Dublin on 04.03.17 with Dublin Civil Defence, Dublin Fire Brigade and An Garda Síochána. Video footage provided by Emergency Times.
---
April 9, 2017
Meath Civil Defence hosted their Regional Exercise in Tara Mines on Saturday 8th April 2017. 4 counties took part in the competition: Dublin, Wexford, Cavan and Monaghan. There were three competitive sites for the overall competition (Casualty, Search & Communications), also a footdrill exercise and a workshop on Mine Rescue. The day's activities were followed by a prize giving… Read More
---