Liffey Swim
August 6, 2019
Dublin Civil Defence had a total of 54 Volunteers on duty for the Liffey Swim on Saturday 3rd August. The unit provided Medical Cover, Rescue Boats and Safety Spotters on the bridges. There were also two Volunteers in dry suits on the exit steps to assist swimmers out of the water.
In addition to the 54 Volunteers on duty, 4 Rescue Boats, 3 Ambulances and 1 Ambulance Support Vehicle were utilised during the course of the event.
Congratulations to Dublin Civil Defence Volunteer Catherine Fenton who finished in fifth place and to fellow Volunteer Susan Howard who also had a top finish in the race. A reception hwas osted by the Lord Mayor of Dublin in the Mansion House.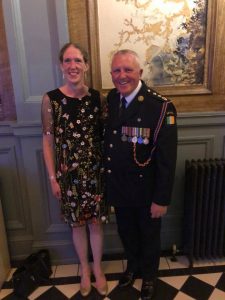 Dublin Civil Defence crews constructed the Swim Platform on Friday eveninig, 2nd August in Poolbeg in preparation for the 100th Anniversary Liffey Swim on Saturday 3rd August. Over 90 Pontoons were put together and floated halfway up the Liffey.