Donegal Severe Weather Relief Efforts – January 2015
January 14, 2015
Most parts of the County Donegal awoke to a blanket of snow this morning with treacherous road conditions experienced countywide. Throughout the day further heavy snow falls have added to those trying conditions. Road conditions are described as "lethal" after heavy falls of hail froze and were then covered in fresh falls of snow.
Up to three inches of snow is set to fall overnight and tomorrow morning.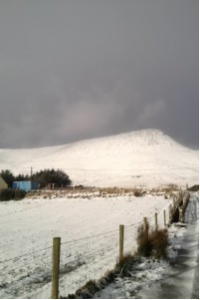 At 12 noon today, Tuesday 13th January, the Home Care Support Services of the HSE placed Donegal Civil Defence on standby to assist Home Care Support workers reach the elderly and housebound in their own homes should the severe weather continue. At 3.18pm Civil Defence was activated to transport Home-Help to homes of the elderly in the Carrick, Ardara and Dungloe areas this evening. Currently Civil Defence has a 4WD vehicle, a driver and helper responding to calls in this area. This service will continue in these areas until the snow clears.