Annual Civil Defence Radiation Monitoring Exercise, 24th November 2019
November 25, 2019
PRESS RELEASE
Civil Defence in conjunction with the Environmental Protection Agency carried out its annual Radiation monitoring exercise on Sunday 24th of November 2019. The objective of the exercise was to test Civil Defence's response to a potential nuclear fallout impacting Ireland, as a result of a nuclear incident abroad.
Overall 58 Civil Defence Volunteers sampled 116 locations covering every county in Ireland.
Minister Kehoe commented that "the scale and logistics of the exercise is testament to the commitment of Civil Defence volunteers to assist Government and their local communities".
Minister Kehoe thanked all Civil Defence Volunteers and Civil Defence Officers that took part in the national exercise. He concluded by stating "as Chair of the Government Task Force on Emergency Planning which brings together all the major stakeholders including Civil Defence, I recognise and appreciate the importance of running regular Interagency training Exercise".
ENDs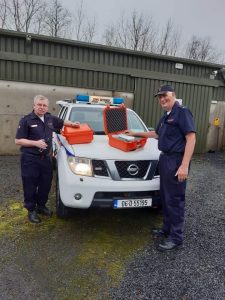 Volunteers Tony Martin and P.J. Fitzpatrick from Westmeath Civil Defence at the commencement of their participation in the National Radiation Monitoring Exercise. Click here for more photos from the exercise