Waterford & Kildare Civil Defence Joint Exercise
February 19, 2018
54 Civil Defence volunteers from Waterford and Kildare Civil Defence held their annual joint training exercise on Saturday 17th February in Waterford.
The scenario for this year's exercise was an aircraft down, where rescuers were requested to assist gardaí in searches, locating casualties and bodies, aircraft debris and flight recorders.
The exercise also involved the Irish Coast Guard's R117 and An Garda Síochána.
Following the joint exercise Waterford Civil Defence promoted a number of volunteers at their annual presentation at Dooleys Hotel, Waterford.
All photos: Declan Keogh / Emergency Times.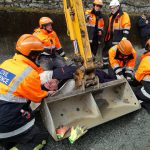 Video of Rescuers locating one body in Waterford City Civil Defence SAR exercise.
Photographs from the joint exercise