Papal Visit to Knock
September 12, 2018
Mayo Civil Defence under the guidance of the county's Civil Defence Officer, Ms Rose Doherty and her Management Team played a major role in supporting the Principal Response Agencies at Knock Shrine on 26 August 2018.
Mayo Civil Defence coordinated Civil Defence Units from Mayo, Laois, Roscommon, Galway, Sligo and Donegal during Civil Defence operations at Knock Shrine on the historic occasion of the papal visit. All volunteers gave freely of their time. In total, 140 volunteers worked proudly alongside our Primary Response Agency colleagues in An Garda Siochana, Health Service Executive, Mayo County Council, Mayo Fire & Rescue and the Voluntary Emergency Services of Order of Malta, St John Ambulance and the Irish Red Cross.
The primary role of the 140 personnel was to support An Garda Siochana with site safety and security at Knock Shrine and support of the Health Service Executive with provision of Ambulances at car park zones and at Ireland West Airport (Knock).
Civil Defence utilised the following resources to mount and carry out the operation:
140 Members (1,900 man hours) from 6 Civil Defence Units.
One Command and Control Unit from Laois Civil Defence.
Five Ambulances.
Ten 4 Wheel Drive Passenger Jeeps.
Seven Mini Buses.
Two Tent and Lighting systems as welfare hubs (feeding/shelter).
Three Utility Vans to provide operational support, and
One Welfare Unit & Crew provided by Roscommon Civil Defence.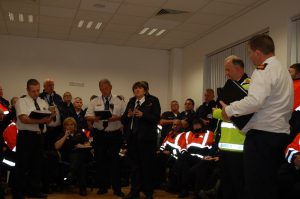 Rose Doherty addressing Civil Defence personnel and members of An Garda Siochanna Saturday evening 25 August 2018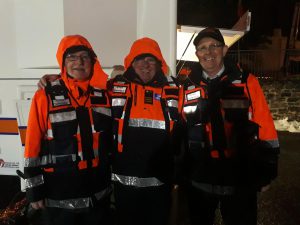 Mayo Civil Defence volunteers on duty at Knock on 26 August from L – R (Michael Jordan, Michael O'Donnell and Gerry Regan)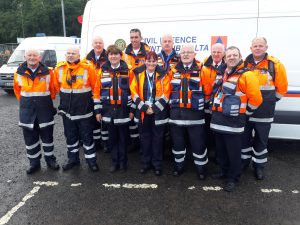 Mayo Civil Defence volunteers on duty 26 August 2018. Front row L -R Jimmy Maloney, Derek Culkin, Rose Doherty CDO, Maura Prendergast, Commander Michael Jordan and Commander Fran Power. Back Row L-R Tony McGing, Gerry Campbell, Commander Tommy Walsh, Michael O'Donnell and Charlie Carroll.