Kerry – Long Service Medals
February 13, 2015
At a ceremony in Tralee on Tuesday 10th February, 12 members of Kerry Civil Defence were awarded long service medals. 10, 20, 30 & 40 year medals were presented on the night to the volunteers. The ceremony was attended by Kerry County Council CEO Moira Murrell and by Mayor of Tralee Jim Finucane. Among those honoured was former CDO Michael Forrest.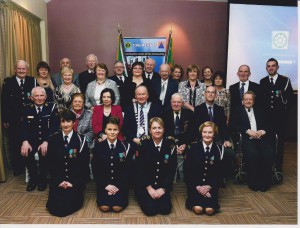 Kneeling from Left to Right:
Noreen Quirke, Caroline McConnell, Alex Murphy, Peggy Lynch
Front seated Left to Right:
Civil Defence Officer Tom Brosnan, Joan Browne, Chief Executive Officer Kerry County Council Moira Murrell, Mayor of Tralee, Jim Finucane, Former Civil Defence Officer Michael Forrest, Director of Services, John Breen & Agnes Twomey.
Back row from Left to Right:
Francis O Connor, Dora McCarthy, Michael Quirke, Noreen Marshall, Noel O Connor, Bridie Moriarty, Tom Griffin, Mary Golden, Jim O Mahony, Toddy Buckley, Margaret Heaphy, Maureen O Donoghue, Angie Kissane, Mary Nolan, Paddy O Sullivan, Paul Baynham.