Civil Defence Preparations for Storm Lorenzo
October 3, 2019
Civil Defence units countrywide have been placed on standby to assist with relief efforts following Storm Lorenzo, which is currently hitting the Irish Coastal counties.
* Civil Defence has 3,500 volunteers based in every Local Authority area in the country. Civil Defence has a wide range of equipment to deal with severe weather including 88 Boats, 47 Fire Tenders, 9 Floating Pontoon Units and 130 Four Wheel Drive vehicles.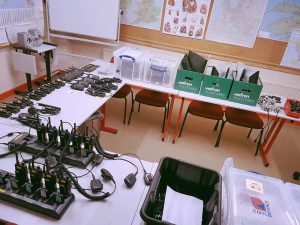 Kerry Civil Defence volunteers are on standby to assist with the Orange weather warning. The unit is looking after the regional resilience desk through their network of communications.