Christmas Greetings
December 19, 2014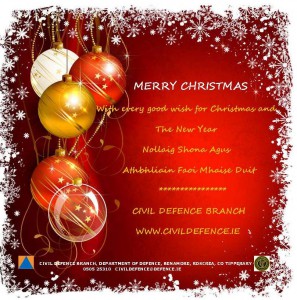 As Director General of Civil Defence I would like to take this opportunity to thank all Civil Defence members and staff of the Civil Defence Branch of the Department for their magnificent service throughout 2014.
Civil Defence has provided much needed assistance to communities all over the country throughout the year.
From the storms and floods of February, through numerous searches for missing persons and community events both large and small, national and local, across all areas of the country, Civil Defence Volunteers provided extensive and much needed support to the frontline services.
Throughout Christmas and New Year Volunteers will continue to give their time to help their local communities and assist with efforts to help the homeless in Dublin.
I would like to wish every member of Civil Defence and the staff of the Branch a merry and a peaceful Christmas and look forward to another successful year for the organisation in 2015.
Bill Smith
Director General